CAC presents Swedish art video at Videorats videofestival in Celje, Slovenia (10.10.2010)
With Rasmus Albertsen, Kalle Brolin & Kristina Müntzing, Carl Johan Engberg, Astrid Göransson, Lisa Jeannin & Rolf Schuurmans, Otto Mogren, Ninia Sverdrup, and Johan Wik.

Swedish artist Nathalie Djurberg is a rising star within the field of claymation art, and her animated clay figures were one of the centrepieces of the 53rd Venice Biennale.  It would be easy to draw parallels between the work of Djurberg and the animations of Lisa Jeannin and Rolf Schuurmans, but the similarities are superficial. The overall tone of Jeannin & Schuurmans work is much more playful, and where Djurberg seems to be exorcising personal demons, with disturbing visuals and themes that distance the audience, Jeannin & Schuurmans instead invite the viewer closer to share a story and a bit of time. The videos selected for this presentation are made this year and are also included in a big presentation of the artists' work at Malmoe Art Museum right now. Previous exhibitions include participation in the Busan Biennale in South Korea, Moderna Museet, Stockholm, Middelheim Museum, Antwerp, and more.
Otto Mogren is another Swede that have chosen to work with claymation but his style owes more to  Swedish filmmaker Roy Andersson (known for movies like You, the Living, and Songs from the Second Floor)than to Djurberg.  Like Andersson, Mogren creates characters that are closed inside themselves, rather than expressive to the level of the grotesque as in Djurberg's films. Mogren has exhibited at Göteborgs Konsthall, within the parallel program of the 3rd Moscow Biennale, and more.
Ninia Sverdrup's works are often made in the tradition of video paintings. With a static camera and few or no cuts she creates works where the narrative is not built up by a succession of events, but rather of a cyclic time line. As viewers we are confronted with a place and a mood rather than a story. Sverdrup has exhibited at Kunstraum Kreuzberg/Bethanien, Berlin, Bonniers Konsthall, Stockholm, and more.
Rasmus Albertsen's videos and installations are successfully blending David Lynchian atmospheres with absurd humour and a distinct Scandinavian melancholy.  Albertsen often gives us characters caught in a looped existence, struggling to break out of their patterns, but inevitably finding themselves back at square one again. Albertsen is of Danish nationality, but he lives and works in Umeå, Sweden, where he is also one of the co-founders of the contemporary art gallery Maskinen. Albertsen has exhibited at Kunsthal Charlottenborg in Copenhagen, Bildmuseet, the contemporary art gallery in Umeå, and more.
In her charcoal animations Astrid Göransson investigates memory and personal stories. In the video Out of the Potato Basket she revisits a childhood memory of hiding in a potato basket to not have to help out with the picking. Out of the basket a different story however grows. Göransson has exhibited at amongst others Borås Art Museum and Malmoe Art Museum. She also works as an art teacher and she has been a popular mentor to many of the most important young Swedish artists.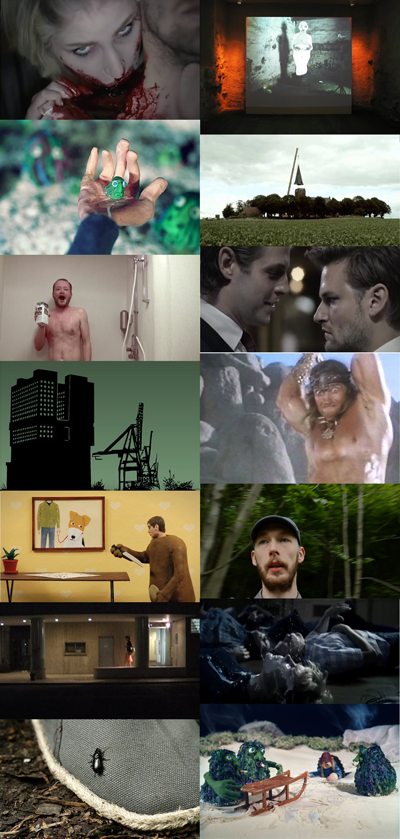 Kalle Brolin and Kristina Müntzing have made the animated film Potential Place in collaboration. It consists of slow pans across vacant lots, half abandoned construction sites and kiosks next to bus-stops, all as silhouettes against faded dawn sky, during the hour before most people have started moving about outdoors. It is the hour when empty places are waiting for things to start happening, when possibilities are open. And an in-between space onto which might be projected visions of some future city-to-be. The sites are all found in Kaliningrad, Russia. Music for the film was made by artist Helena Backman. This year Kalle Brolin has shown his work at the 4th Bucharest Biennale, and his work is currently on display at the 10th Liverpool Biennial. Kristina Müntzing has exhibited at Kiasma - Museum of Contemporary Art, Helsinki, Finland, NCCA (National Center For Contemporary Art), Kaliningrad, Russia and more.
The imagery of Johan Wik is far from child safe. If it was possible to merge the work of Matthew Barney and John Bock the result might not be so far from Wik's videos.  Wik effortlessly masters the technical aspects of film making. His videos are formal gems, the visual quality is seamless and superb. At the same time, there is a complete lack of cause and effect in his films. There is no revelation in the end, no explanation, no end of story. Johan Wik's videos are the visual manifestations of frustration and trauma, almost cathartic in nature, but executed with a sharpness that would make Barney envious. Wik is currently working on his MFA exhibition, parallel to his professional work as a film editor.
In his work Carl Johan Engberg deals with the choices we have to make in our lives, our ambitions, our beliefs and Christianity's place in our modern society. We Don't Go There Anymore is a poetic documentary about the demolition of a church. For the first time ever a church was demolished in Sweden due to superfluousness and Engberg followed the two year process closely. Engberg has exhibited at the 2nd Moscow Biennale, Göteborg Museum of Art, and more.
Selection made by curators Nina Slejko and Conny Blom