Curators: Nina Slejko & Conny Blom

Leon Zuodar (born 1977) is a Slovene artist who works both within established institutions and as a street artist, consequently ignoring the hierarchies of the art world and creating his own distributions systems, producing artist books, drawings, paintings, sculptures and performances with small means used to outmost efficiency. Together with Miha Perne he works under the moniker Beli Sladoled (White Ice-cream). Together with Perne as well as solo, Zuodar has exhibited extensively across Europe, both in established venues and in more alternative spaces.
Leon Zuodar works in an array of different techniques, be it painting, performance or installation, but during the exhibition at CAC Landskrona his works on paper are in focus. In Zuodar's works there is space for reflection about big and small things, comments about society and the world we live in, as well as memories of growing up in Yugoslavia and other personal anecdotes.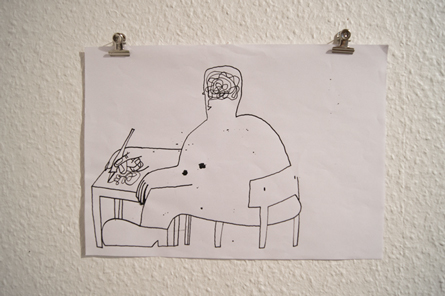 Even if humour and playfulness are the first things that meet the viewer, the seemingly naïve drawings are refined in their well composed simplicity. Leon Zuodar's connections to street art are sometimes apparent, but he is essentially a classically educated artist.
Leon Zuodar (född 1977) är en Slovensk konstnär som både arbetar med etablerade institutioner och självständigt som gatukonstnär och därigenom konsekvent ignorerar konstvärldens hierarkier. Zuodar skapar egna distributionssystem genom att producera artists books, teckningar och målningar med minimala medel utnyttjade till fullo. Tillsammans med Miha Perne arbetar han under namnet Beli Sladoled (Vit Glass). Både separat och tillsammans med Perne, har Zuodar ställt ut på en mängd institutioner runt om i Europa, må det vara större, etablerade institutioner eller alternativa verksamheter.
Leon Zuodar arbetar i flertalet tekniker och det kan röra sig om måleri, performance, installation med mera, men med på utställningen på CAC Landskrona är fokuset riktat mot Zuodars teckningar.
I Zuodars verk ryms reflektioner över stort och smått, kommentarer om samhälle och omvärld likväl som minnen från uppväxten i Jugoslavien och självbiografiska anekdoter. Även om humor och lekfullhet är det som först möter betraktaren, så är de till synes naiva teckningarna raffinerade i sin välkomponerade enkelhet. Kopplingarna till street art stundom är uppenbara, men Leon Zuodar är i grund och botten en klassiskt skolad konstnär.