Rasmus Albertsen is a Danish artist living and working in Umeå, Sweden.

CAC Bukovje is happy to present a selection of Albertsen's work spanning from 2006-2010. We have selected videos that present different stages in the artist's development, and that briefly, but accurately will acquaintance the viewer with the work of one of the most promising Danish video artists of the new generation. Continuing the legacy of Peter Land and Jesper Just, Albertsen has developed an own language, in which he is successfully blending David Lynchian atmospheres with absurd humour and a distinct Scandinavian melancholy.
Videos to be exhibited: Pig (2006), Oma (2007), Distress/Discomfort (2008), Barbarian (2008), Assignment # 11 (2010)
More info about the artist at: http://www.rasmusalbertsen.dk/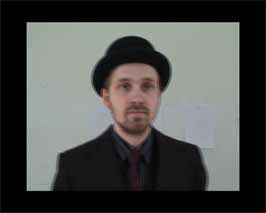 Pig, 1:45 min. 2006
Oma, 5:03 min. 2007
Barbarian, 2:23 min. 2008
Assignment # 11, 4:56 min. 2010
SLO
Rasmus Albertsen je danski umetnik, rojen 1977, ki živi in dela v Umeå-u na Švedskem. Je soustanovitelj Gallery Maskinen, galerije za sodobno, eksperimentalno umetnost.

CAC Bukovje z veseljem predstavlja izbor Albertsen-ovih del, ki so bila narejena med leti 2006-2010. Izbrali smo videe, ki predstavljajo različne faze umetnikovega ustvarjanja in ki na kratko, a natančno, seznanijo gledalca z delom enega najobetavnejših Danskih video-umetnikov nove generacije. Nadaljujoč delo Petra Landa in Jesperja Justa, je Albertsen razvil svoj jezik v katerem uspešno spaja David Lynch-evsko vzdušje z absurdnim humorjem in izrazito Skandinavsko melanholijo.

Kustosa: Nina Slejko & Conny Blom

Razstavljeni videi:
Pig (Prašič) 2006, 1:45 min
Oma (Babica) 2007, 5:03 min
Distress/Discomfort (Gorje/Nemir) 2008, 1:55 min
Barbarian (Barbar) 2008, 2:23 min
Assignment # 11 (Naloga # 11) 2010, 4:56 min