Curators: Nina Slejko & Conny Blom

With the exhibition "Wanting to Say Hello" by the British artist Martin Creed, Conceptual Art Centre Bukovje Landskrona opens its new permanent premises in Sweden, and we are hereby inviting you to the inaugural exhibition.
Martin Creed became known to the masses when he in 2001 won the prestigious Turner Prize for his Work No. 227, the lights going on and off, a room in which the light switches on an off in regular intervals. The jury's choice generated a lot of protests and a British painter showed her distain by throwing eggs at one of the walls of the room in which the piece was exhibited and thus making it quite clear that she never had understood the piece to start with. As a natural continuation of the minimalist tradition the piece was not intended to be provocative and the reactions say more about the people reacting than the piece itself. Like John Cage's classic 4′33″ taught the audience to actually listen Creed's Work No. 227 requires that you as a viewer allow yourself to see without looking for the art.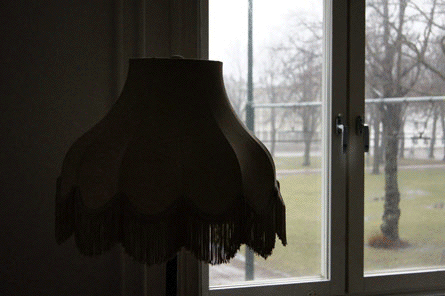 In a text about Creed's Work No. 227 the Italian artist and curator Maurizio Cattelan writes about mood swings, the inability to preserve joy, and the need to measure it against a black background. To liken Creed's work to the mind of someone with bi-polar disorder might be taking it too far, but there is indeed a reoccurring interest in the tension between opposing poles in Creed's growing oeuvre.  Be it light versus dark, inside versus outside, activity versus passivity, hard versus soft or visible versus invisible, Creed arranges these opposites effortlessly with subtle gestures and simple means.
In the exhibition at CAC Bukovje Landskrona Martin Creed will show three works, one of which being Work No. 312,  A lamp going on and off, the smaller scale sibling of his Turner prize winning light piece.  Whilst not as drastic as Work No. 227 it still has a profound effect on the room it is placed in. The hominess of the lamp stands in stark contrast to its behaviour, and the effect is quite theatrical and dramatic, perhaps even uncanny. The video Work No. 1090, Thinking/Not Thinking is much more up-beat and with the Work No. 115, a door that only can be opened to a 45 degree angle,we have three pieces that complement each other and show different aspects of Martin Creeds practise.
In an interview from 2001 Martin Creed explains that his works are not parts of an academic exploration of conceptual art, but that it is rather a wish to communicate, "wanting to say hello" that motivates him. His works are emotional rather than conceptual.
With special thanks to Martin Creed and Rowena Chiu of Hauser & Wirth.