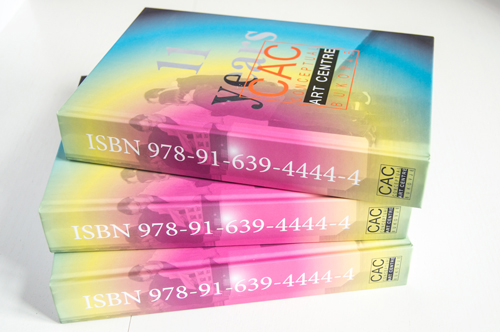 Nina Slejko Blom and Conny Blom:
Eleven Years of CAC Bukovje/Landskrona
What's in a book? Ideas and concepts, could well be – but more important perhaps a load of dedicated work, of time, that is: of life. Artists Conny Blom and Nina SlejkoBlom's CAC is precisely that, a lifetime art space, a way of seeing art as part of everyday life. Striking up a second decade of the project, this book brings together much of the goods collected and scattered along the way so far, whether material or immaterial – artworks and events, recipes, pamphlets and exhibitions. Mix a conceptual cocktail, feel the temptation of scanned candy, celebrate a World Culture Day, enjoy a satellite of the Bucharest Biennale or learn about the history of information technology in the post-Yugoslavian countryside. Based in Bukovje, Slovenia, and Landskrona, Sweden, CAC is a truly transnational institution, firmly rooted in that wired world of contemporaneity, yet at the same time, and just as essentially, it makes visible its political possibilities in making art happening wherever the energy is, or as they put it themselves: shaping the radical periphery. And this is only the beginning.
- Dan Jönsson, writer and art critic -
11 Years of CAC Bukovje/Landskrona + CAC Journals + artworks by Jonathan Monk, Claire Fontaine, Yara Flores, Serkan Özkaya, Laure Prouvost, Klara Sax and Nedko Solakov.